History
History of Libochovice was always connected with the nearby Házmburk Castle.
History of Libochovice was always conected with the nearby Házmburk Castle
Old wooden fort, later owned by the Luxemburg family.
Zbyněk Zajíc of Valdek became the owner of Hasenburg Castle and Libochovice fortress. He rebuilt it in Gothic style.
Libochovice was burned by the Hussites and the fortress was ruined.
1558 Bought by Lobkowitz family. Rebuilding into a Renaissance chateau (castle).
Sold to an Austrian nobleman Gundakar Dietrichstein.
1682 – Italian architect Antonio della Porta authorized to rebuilt the Libochovice Castle in an Early Baroque Style – to its present form. The work finished in 1690.
The Dietrichsteins held the chateau until 1858.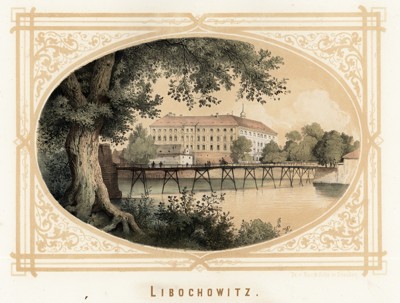 Libochowitz, Waldemar Rau (1827–1889), 1851.
Libochovice Chateau in the possession of Herbersteins, till the WW II.
Since January 1, 2002, the Libochovice Chateau owns Czech Republic and its National Cultural Monument (2002).